Update: August 2022 Corvette News Summary Now Available!
May was a whole lot for Corvette owners, dealers, and enthusiasts, but in June, it got bigger with more details and surprises for the 2023 Corvette Z06 coming through. Without further ado, let's get into the details of these events.
Top 10 Corvette Dealers: Number of Corvettes Sold
On the 1st of June, the list of the top 10 Corvette dealers in terms of sales recorded for the first half of 2022 was released, and there were a few surprises! MacMullkin Chevrolet took over the lead from Ciocca (Kerberk), the Top 1 dealer last year, by two Corvettes! 
It is worth noting that this ranking does not mean they are simply the best. It is a purely a volume game. We always suggest going to a few Chevrolet dealerships when you plan on purchasing your Corvette and meet the staff and the techs. A good sale experience is great, but the aftercare, when you take your Corvette back for maintenance is really what matters! So, take the below table with a grain of salt, and do not base your decision to visit a dealership solely off how many Corvettes they can move.
Top 10 Corvette Dealerships 2022: Number of Sales

| # | Dealership | City | State | Sales |
| --- | --- | --- | --- | --- |
| 1 | MacMulkin Chevrolet Cadillac | Nashua | New Hampshire | 605 |
| 2 | Ciocca | Atlantic City | New Jersey | 603 |
| 3 | Criswell | Gaithersburg | Maryland | 279 |
| 4 | Bominin Chevrolet Dadeland | Miami | Florida | 260 |
| 5 | Les Standford Chevrolet Cadillac | Dearborn | Michigan | 205 |
| 6 | Stingray Chevrolet | Plant City | Florida | 128 |
| 7 | Rick Hendrick Chevrolet | Duluth Minnesota | Minnesota | 104 |
| 8 | Bominin Chevrolet West Kendall | Miami | Florida | 96 |
| 9 | Coughlin Chevrolet | Pataskala | Ohio | 94 |
| 10 | Van Chevrolet Buick GMC | Scottsdale | Arizona | 80 |
Australian Price Increase: 2023 Corvette Increases by $15,000
Bad news for our Corvette friends down under. In Australia, due to supply chain restrictions and economical price increases, including exchange rate fluctuation between the Australian and US Dollar (according to GM Specialty Vehicles Division), there has been an increase of about $15,000 for the recommended retail price (RRP) for the 2023 Chevrolet Corvettes along with the reduction in local supply. This follows what was reported in March, when the US Corvette price increased by $1,000 - $1,500. A farcry from the $15,000 increase!
This has caused disgruntlement among many Australian Corvette dealers who now charge about $5,000 - $10,000 as dealer delivery charges and some up to $25,000. They see this move as GM trying to rake in a greater slice of the profit from each Corvette.
Despite the increase in price, and lower supply, many Aussie dealers have an excess of 50 customer orders for the C8. A GMSV spokesperson says, the allocation of Chevrolet Corvettes to Australia will increase soon with the next batches. Check out the table below for the prices you would pay as an Austrialian converted to USD.
Australian C8 Corvette Prices: AUD converted to USD; Excludes registration, stamp duty, and dealer delivery fees.

| Model | Old Price | New price |
| --- | --- | --- |
| 2LT Coupe | $99,220 | $109,492 |
| 2LT Convertible | $109,485 | $119,756 |
| 3LT Coupe | $109,834 | $119,756 |
| 3LT Convertible | $109,834 | $130,021 |
Emelia Hartford Uses her Record-breaking C8 Corvette for a Surprise Challenge
Emelia Hartford known for her record-breaking 1200 HP C8 Corvette down the 1/4 mile partnered up with eBay Motors in a pretty sweet video!
Her car became famous early on as it was one of the first C8 Corvettes to get twin-turbo'ed. Her other mods include:
the Z5l package
Dodson Stage Two
Dual-clutch
G-Force axles
Forgeline Beadlock wheels
Auxiliary fuel system port-injected with the carbon PTR intake
Heat shield product protectants
performance with precision turbos
Emelia Hartford, while interacting with fellow car builder Collete Davis was challenged to a surprise test by her. This ultimate test was a ¼-mile drag race between her car and a helicopter. During the race, it felt like the chopper would win, but then Emelia showed grit to beat the chopper hands down. You can watch the full video below:
If you are reading this Emelia, then ACS Composite would love to work with you on your next build ;)!
GM Starts 2023 Chevy Corvette Deliveries to National Corvette Museum
On Monday, the 6th of June, National Corvette Museum accepted the first R8C Museum delivery of 2023 Corvette. This car, a 2023 Torch Red VIN #009, was purchased by Mike & Anne Benson.
"We love nothing more than watching ecstatic new owners experience the R8C Museum Delivery of their new Corvettes." Stephanie Morrill | Director of Sales and Guest Operations of NCM
Customers who get
Customer who get R8C museum deliveries get the opportunity to have a great experience as they are welcomed with custom signage and a private tour of the museum (with their car on display). This experience also includes a one-year individual membership to NCM, a gold decal inside the driver's door, and a wall plaque including the customer's name, date of delivery, and NCM number. Additionally, a Corvette expert gives the owner a one-on-one orientation about their car; an enviable experience especially those of us many thousands of miles away from Kentucky!
Stephanie Morrill, Director of Sales and Guest Operations of NCM, said, "We love nothing more than watching ecstatic new owners experience the R8C Museum Delivery of their new Corvettes. We are also excited to announce the National Corvette Museum will be raffling off 2023 VIN #1 in the coming weeks!"
The 2023 VIN #001 has an active white finish and will be raffled off on Friday, 2nd of September at 3 pm. This will be during the NCM's 28th Anniversary celebration with limited tickets of 2,023 at $300 each. The VIN #001 includes features such as:
Adrenaline Red Dipped interior
8-Speed Dual Clutch Transmission
Z51 performance package
3LT
GT2 Bucket Seats
Front lift
Carbon Flash / Edge Red Stinger Stripe
HD Front and Rear Vision Cameras
20-Spoke Carbon Flash-Painted Aluminum Wheels with Red Stripe, Bright Red-Painted Calipers
If you are interested in the NCM Raffle for the above C8, then you can follow the link here.
Chevrolet Updates Build and Price Configurator for the 2023 Corvette Stingray
Chevy has released their best Build and Price Configurator yet. This relaunched configurators for the base model C8 Corvettes. And frankly, it was much needed!
Though redesigned from the 2022 model year, it offers a new interface that allows customers to choose various packages and options for their cars. The configurator gives customers a selection of six different exteriors and four interior views via large photos enabling you to see your Corvette build from different angles. One of the most significant improvements to last year's configurator is that the new one presents you with much larger photos, and you select the various options.
Did you know that ACS Composite has its own online configurators which allow you visualize and build your own Corvette or Camaro. We have all our products uploaded to this configurator, so you can preview what an ACS part will look like on your car. Unfortunately, we have not yet finished our C8 model yet, so if you have a C7 Corvette, then check out the ACS Composite Configurator. Note: Our configurators will only work on desktops.
Another C8 Corvette Price Increase
Yup, Chevrolet raises the prices of the 2023 Corvette Stingray. This marks the second increase in one year. We still remember when the C8 was advertised as a sports car below $60,000. Sad times.
As fuel prices and the cost of materials are skyrocketing daily along with the current inflation, Chevy has taken the step and increased the cost of the 2023 Corvette Stingray by $2,300 effective June 13th. This will surely shock many Corvette enthusiasts and lovers, but many would be expecting it. This price increase also comes with some other downsides as it affects the prices of all trim levels of the stingray and other options.
Chevrolet 2023 C8 Corvette New Price in USD.

| Trim | Old Price | New Price |
| --- | --- | --- |
| 1LT Coupe | $63,295 | $65,595 |
| 1LT HTC | $70,795 | $73,095 |
| 2LT Coupe | $70,595 | $72,895 |
| 2LT HTC | $77,595 | $79,895 |
| 3LT Coupe | $75,245 | $77,545 |
| 3LT HTC | $82,845 | $84,545 |
You might want to think twice before adding these RPOs to your C8 order as they have also increased in pricing:
GT2 Bucket Seats (AH2): $1695
Personalized Interior Plaque (BV4): $295
Color Combo Override (D30): $659
Front Lift (E60): $2595
Chrome Badges (EYK): $395
Black Exhaust Tips (NGA): $395
Custom Interior Trim and Seat Combination Override (R6X): $695
Brake Calipers (Yellow, Bright Red, Edge Red): $695
Seat Belts (Orange, Blue, Red, Yellow, Tan): $495
Stitching (3LT Yellow and Red): $495
Image source: CorvetteForum member Gettysburg Cliff
Rick Conti: Shop Talk
This was Rick's second Tuesday Fun Tech for June, and what made it special was that it was a day in the shop with Rick Corvette Conti and his guys, Nate and Chuck.
Rick took us in the video on a walk in the shop, where he showed us a 2015 Chevrolet Z06 turned in by a customer who wanted to sell her C7 while claiming the car was all good and needed nothing.
Nate has had to make some changes to this Corvette, including changing tires, rims, belt tensioner, and a minor modification on the doors that rattled before. In Rick's words, "This shows every car needs something," which we also believe is true, and you should act on by ensuring you service your Corvette regularly and as when due.
You can watch the video below:
Part Constraints for the 2023 Corvette Stingray
In a recent announcement on the constraints for the 2023 Corvette Stingray, we learned that there is still zero (0) availability for the 70th-Anniversary Package as a result of the constraint on the Q9A red stripe wheel, which we reported back in March that replaced the discontinued 5DF Gloss Black 5-Trident Wheel. Also, the 2023 Engine Appearance Package and Jake All-Weather Floor Mats. This is a result of the change in vendors.
We are accepting orders on the C8 Jake Floor Mats, but we are currently out of stock, and will ship your order as a first in basis. We expect these to be released in small quanities at first, so make sure you get your orders in to avoid any prolonged delays.
Chevrolet Releases Mint Green 2023 C8 Corvette Z06 NFT
"Own The Color" is an original NFT art creative by XSULLO an NFT which features a 2023 Chevrolet Z06 in Minted Green color. It comes with a surprise as it is to be sold together at an auction with a special edition 2023. The Chevrolet Z06 "physical" vehicle will be the only 2023 Z06 with the Minted Green color.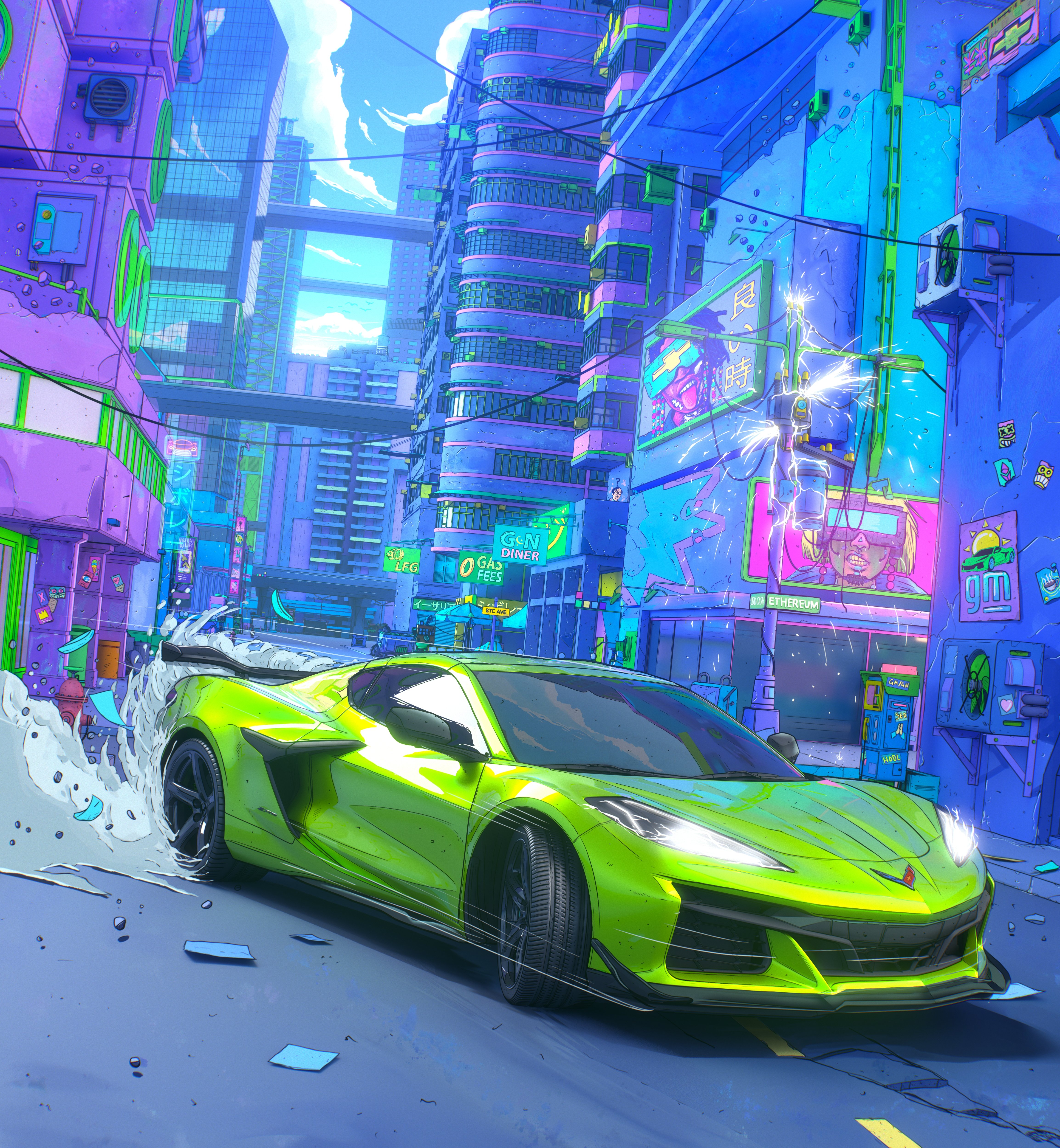 How it works
After purchasing both the vehicle and NFT together, the new owner will be free to sell the NFT alone for personal use only, not as an investment. The winning bidder is granted a limited, non-exclusive license to display the NFT for personal, non-commercial use as set form in the Terms and Conditions.
Eligibility
Though there are a few conditions that must be met to be eligible to be the winning bidder, even if you have the most money to drop. They must be 18 years or older and eligible to take delivery of the vehicle from a participating U.S Chevrolet dealership of their choice after the car is available.
As of this writing, the auction closed, and is no longer available. No one put up a sufficient bid to take ownership of the Z06 Mint Green NFT or the accompanying Z06. The asking price was 206ETH, or $230,000 USD!
New C8 Corvette Blackout Emblem
If you have been poking around in the new Corvette configurator then you might have noticed a new emblem option available.
Recently, they have released two new options for the 2023 Corvette Stingray: a Stealth Interior Trim Package (RPO code BAZ) and a Dark Stealth Crossed Flag Emblem (RPO code SFZ). This dark stealth emblem can be used in place of the standard red and silver emblem on the stingray's nose. This Dark Stealth Crossed Flag emblem can be found on the 2023 Corvette Stingray Build and Price Configurator under the exterior options section.
This will likely be a very popular option as we think it looks AMAZING. Take a look at the before and after photos. You can purchase the C8 Stealth CFZ Emblem here.
ACS Releases Alternative 5VM Splitter for the C8 Corvette
We recently released our newest C8 Corvette front splitter: The ACS 7VM Front Splitter.
The 7VM marks our fourth splitter for the C8 platform. We loved designing this splitter because we wanted to offer an alternative way to customize the front end of the C8.
The 5VM is the most popular splitter for the C8 because that was what was featured on the initial release, but we heard from several C8 customers that they were looking for an alternative splitter to the 5VM.
The ACS 7VM fits that bill by retaining the central portion of the 1VM and 5VM design, but with taller and more aggressive looking side winglets. The winglets are reminescent of the large side inlets.
You can read more about the newest ACS C8 splitter in our recent blog announcing its release and comparing it to our other C8 splitter options here.
And with the exciting news of our newest C8 splitter, the ACS 7VM for 2020 Corvettes, we have come to the end of the June edition of the CNS! We hope you enjoyed reading and catching up with us. There will be more to come in July that will catch your attention as the production and the delivery of the 2023 Corvettes continue, and we will be here to help you sift through it all without missing a detail.
If this is your first time joining us, then make sure you sign up for our newsletter, so you can be sure to receive the next Corvette News Summary in July.
Previous Corvette News Summary